PERIODONTAL TREATMENTS
Dental CT Scan & X-Ray Imaging
Digital X-rays / Dental CT Scan / Intra-Oral Photography
Diagnostic Imaging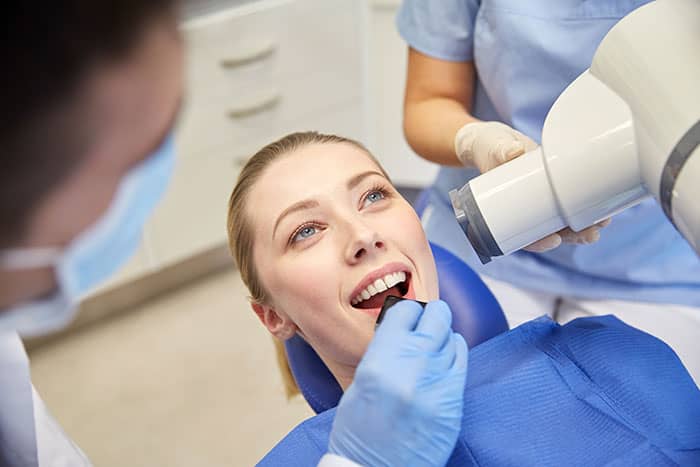 At your initial appointment, digital x-rays will be taken of all your remaining teeth if current x-rays are not available. A dental CT scan might be needed if a more in-depth analysis is required to plan your treatment.  Intra-oral photographs are often taken to relay information to the referring doctors and laboratory technicians, and to help you the patient visualize the details of your case. 
Digital Dental X-rays
A traditional x-ray is 2 dimensional and much of the case specifics can be determined using them.  They are essential in diagnosing your periodontal and dental needs.  They help us accurately diagnose your general condition and formulate the necessary steps in getting you back to health.
Digital Dental CT Scans
CT Scans and Cone Beam Imaging systems generate 3D, high definition x-rays with an additional x-ray and it can be done within seconds.  These scans allow us to quickly assess your dental needs in more detail.  The health and safety of our patients is our highest priority, which is why we utilize a cone beam imaging.  
CT Scan:
Visualize anatomy that cannot be diagnosed from traditional x-rays
Create better, more effective treatment plans when extensive treatment is needed
Assess the benefits and risk of treatment options more accurately
Analyze in detail the position and orientation of critical structures, such as nerves, prior to the procedure
Implant treatment planning
Earlier detection of oral infections and tumors
TMJ analysis
Airway studies (ie: sleep apnea)
Impacted teeth
It is important to us that our patients receive the most advanced care possible.  Such advanced technology allows us to minimize pain and speed healing!
Digital Intra-Oral Photography / Images
An intraoral camera allows our practice to view clear, precise images of your teeth and gums. These images allow us to make a more accurate diagnosis and develop a better treatment plan for each patient. A faster, more accurate diagnosis means less chair time for you! It also allows you to see everything we see and know everything we know.
Many patients struggle to understand why they need complicated dental procedures when they aren't experiencing any pain or see no visual evidence that the procedure is needed. Intraoral cameras allow patients to see their mouths in real-time rather than being shown difficult-to-understand x-rays or listening to the explanation of the dentist. Instead, patients can see the doctor's diagnosis with their own eyes.
Intraoral cameras are roughly the same size as a pen and are fitted with a camera and light. The camera then transmits the images to a computer screen or television monitor. You'll be able to see a fractured tooth, abscess, or cavity immediately. In the case of the intraoral camera, a picture may be worth more than a thousand words!
Procedure Education Videos
CBCT (Cone Beam Computed Tomography)
This video provides an overview of how your doctor can use CBCT technology to create a 3-D image of your head and face to assist with diagnosing dental issues and planning treatment.
Surgical Guide (CAD/CAM)
This video shows you how a custom surgical guide, using CAD/CAM 3-D technology, helps the doctor plan dental implant placements for a predictable, functional and esthetic outcome.
Ready To Schedule A Consult?

4025 W. Bell Road Suite #4
Phoenix, AZ 85053
» Get Directions
New Patients: (480) 744-3881
Existing Patients: (602) 978-6910
Fax: 602-978-6920